Dear Friends of Shan Refugees:
I returned to Minnesota March 1 after an interesting and productive winter with Shan refugees from Burma who have escaped to Thailand. In November 2010, I wrote to you about the orphans we support, who had been described by their caretaker as "a little bit smart and try hard." We trundled them into the back of a pickup truck and took them to a nearby market, where they chose items they needed or wanted, bought with money donated by New York Mills 4th, 5th, and 6th graders. Here are five of them―we are now supporting eight orphans in this area, all of whom originated from a displaced persons camp.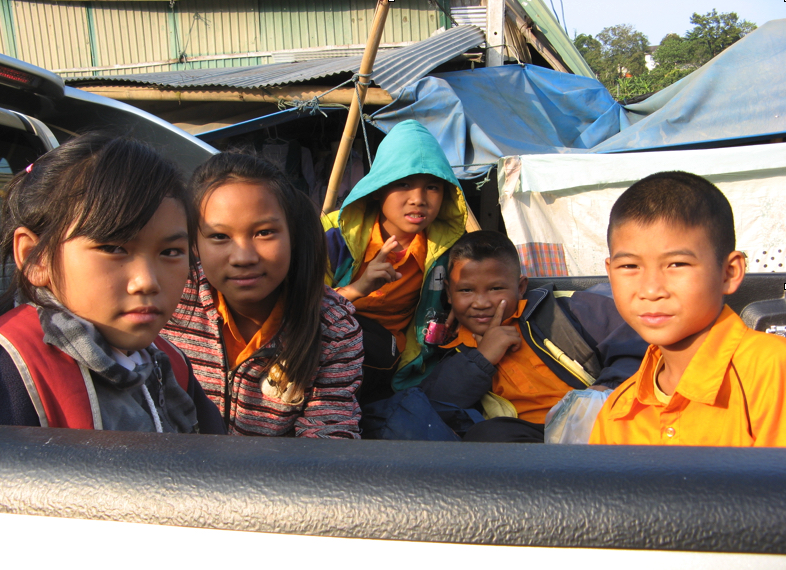 My next visit was to Pi Mok School, started five years ago in a construction workers' camp, an ugly place, which has grown uglier over the years. This year the worker/residents were digging sewer trenches around the land allotted for their huts, so the bamboo and plastic hovels are squeezed together tighter than ever. The same falling-down outdoor toilets continue to serve too many people. But the children are a delight. They love their teachers and their school! In this photo, a teacher and I are teaching "If You're Happy and You Know It." The girl standing at the right side of the photo is a top student. She learned the song immediately and is helping us teach the others.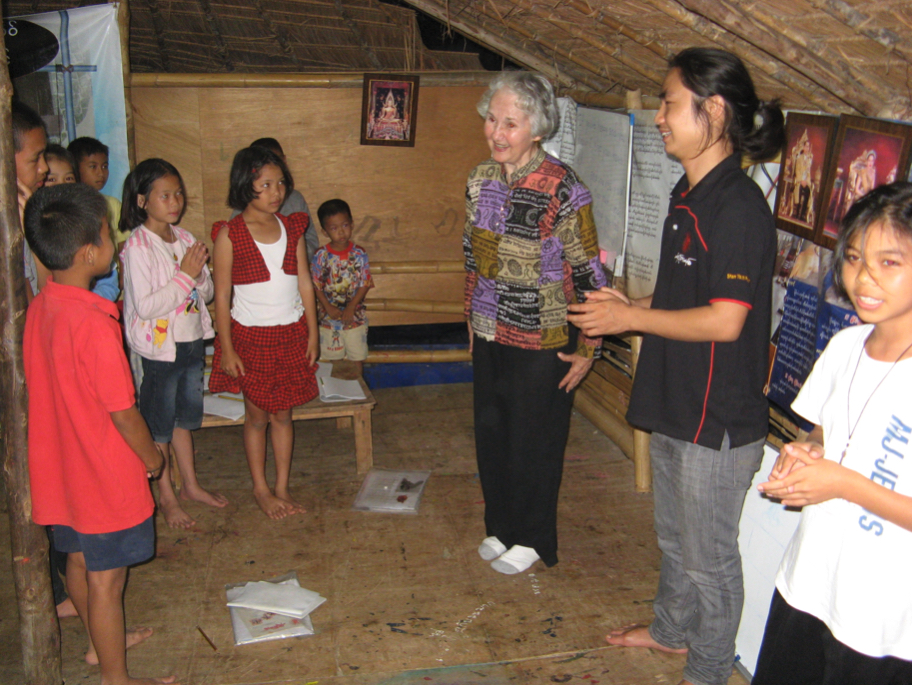 At the end of February, I visited Poon Yaing agricultural workers camp and the school that has existed four years, under increasingly difficult conditions. Last year they were forced to change from sharecrop farming to salaried workers, because Thai landowners thought they were making too much money as sharecroppers.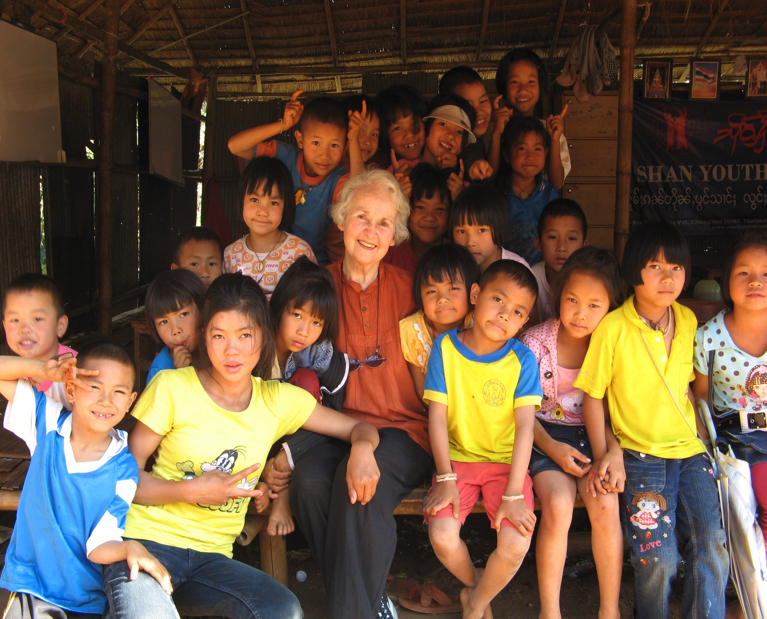 Poon Yaing has a number of outstanding students, including the boy who last year won top academic honors among a class of 52 students in a Thai school. This year friends from England sent us 50 hand knit teddy bears to give to the children in this camp. We augmented their gifts with sketch pads and colored pencils and bought farm caps for the older boys. A 13-year-old boy helped me distribute the gifts. I was most touched when I saw him holding a bag containing a teddy bear and told him he might have a cap, if he wished. "I like this one, teacher [the teddy bear]," he said. Agricultural workers earn about $75.00 U.S. per month and have little money for toys. In the photo above I am sitting with some of the children.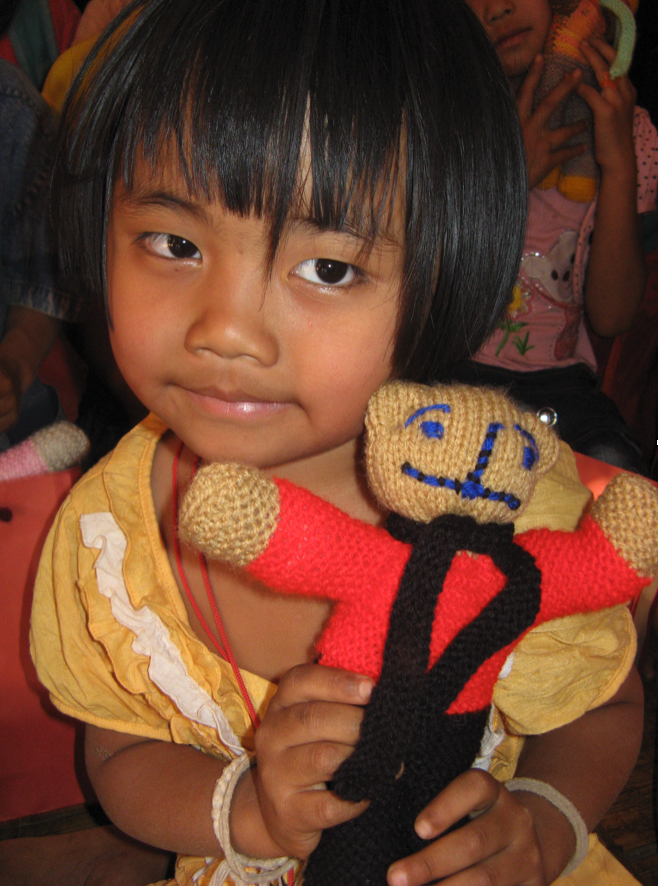 While the children loved their gifts, my main purpose at the camp was to distribute scholarships to parents so the children could attend Thai schools. It was a humbling experience. Fifty-two parents came out of the fields to receive the $20.00 scholarships, enough to buy several uniforms, shoes, and a few other school necessities. I had photos taken with the parents but cannot include them because they are afraid the Burmese government might discover their whereabouts and hunt them down.
They had to sign their names to a receipt form to get the money, and to my dismay I saw that many of the beautiful young mothers could not write, had to ask the teacher to sign for them. If we should have a fortunate fund-raising year, I would like to start a literacy class for the mothers in this camp. First, of course, we must find out how many could attend. Just writing about them brings tears to my eyes.
I will attach a 2011 budget to this mailing, so you can see where your money is going. The last item on the budget, which is designated "Miscellaneous Education Projects," has now been allocated to the production of semi-annual newsletters in the Shan language for the education and enlightenment of the Shan migrant community.
Many thanks for your verbal and monetary support of our projects for Shan refugees from Burma. I wish you could all meet them and see how hard they try to learn so they can live better lives than their parents and help to support their families!
Ready to help us make a change?
We greatly appreciate your financial contribution to our important work. Click the donate button to submit your donation securely via PayPal.