Two Months in Thailand
This has been an exciting year, with Hillary Clinton's visit to Aung San Suu Kyi (read more about the effects of Hillary's visit at this link http://www.irrawaddy.org/article.php?art_id=22662); Suu Kyi saying she will run for the Burmese parliament at the next election, and peace overtures being made by the Burmese government toward ethnic groups. Regarding the perhaps "pseudo" peace overtures, you can read more at this link: http://www.bnionline.net/index.php/news/kic/12301-burma- army-ignores-thein-seins-no-fight-order-.html
Aside from the political events noted above, the three highlights of stay thus far have been: 1) spending Shan New Year―based on the Buddhist calendar and in November this year―at a monastery/orphanage for Shan children and other ethnic groups in northern Thailand; 2) bringing Western friends to visit the Pi Mok Migrant School, which we have supported for six years; 3) spending Christmas at the Shan orphanage where Shan hero and advocate, Charm Tong, grew up (see the chapter titled "Charm Tong and the Girls" in my book.)
The Schools of Hope orphanage is located at a monastery in the northern Thai town of Nong Ook. The director, 23-year-old Noom Hkur, acts as a father as well as a headmaster to the children in his care, who fold their hands respectfully and say "My soong kha, Ba," (Goodnight father) when they go to bed or leave the school at night. There are 46 children now living at the orphanage, plus 5 who are now at boarding schools. A friend bought gifts for all of the children and I had the pleasure of distributing them (teddy bears and cane balls). It was touching to see 17-year-old boys choosing teddy bears over balls. I will insert a couple of photos, one with Noom Hkur and all of the children and several of individual children. Schools of Hope is not "our" project. That is, their main support comes from a group in Singapore, but I try to bring gifts to such children, as well as to the children whose schooling we support.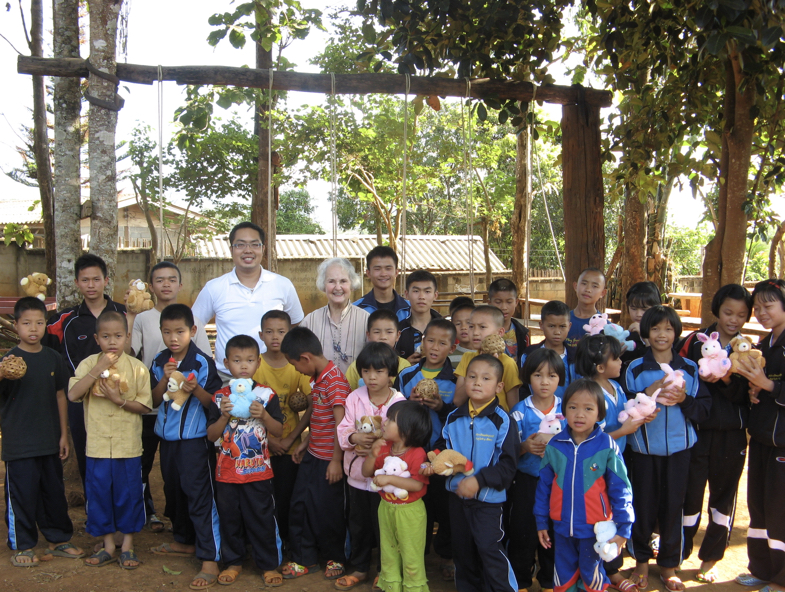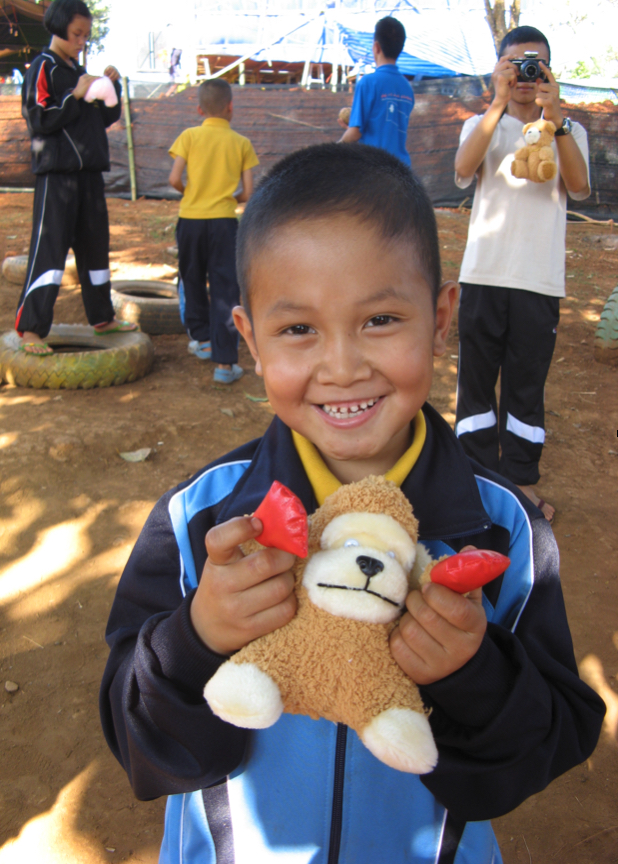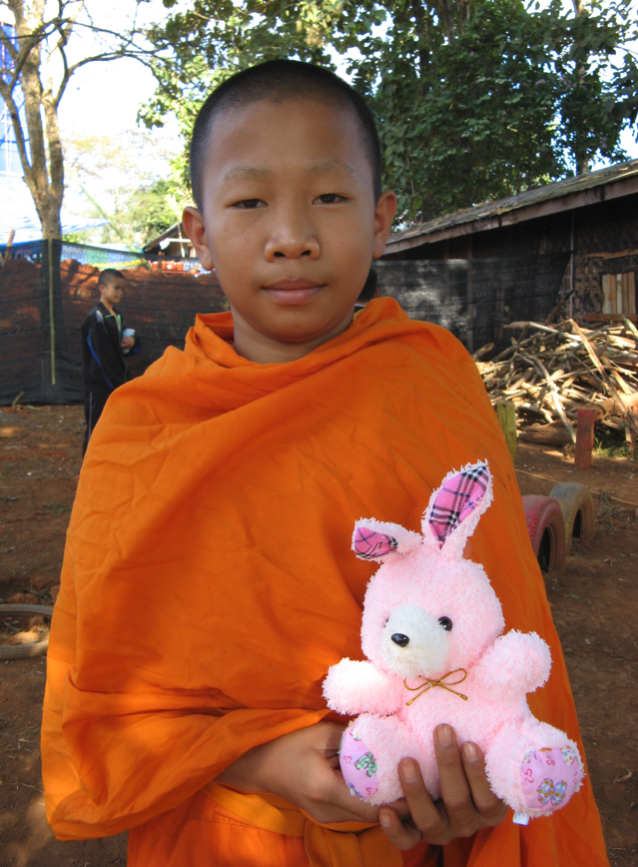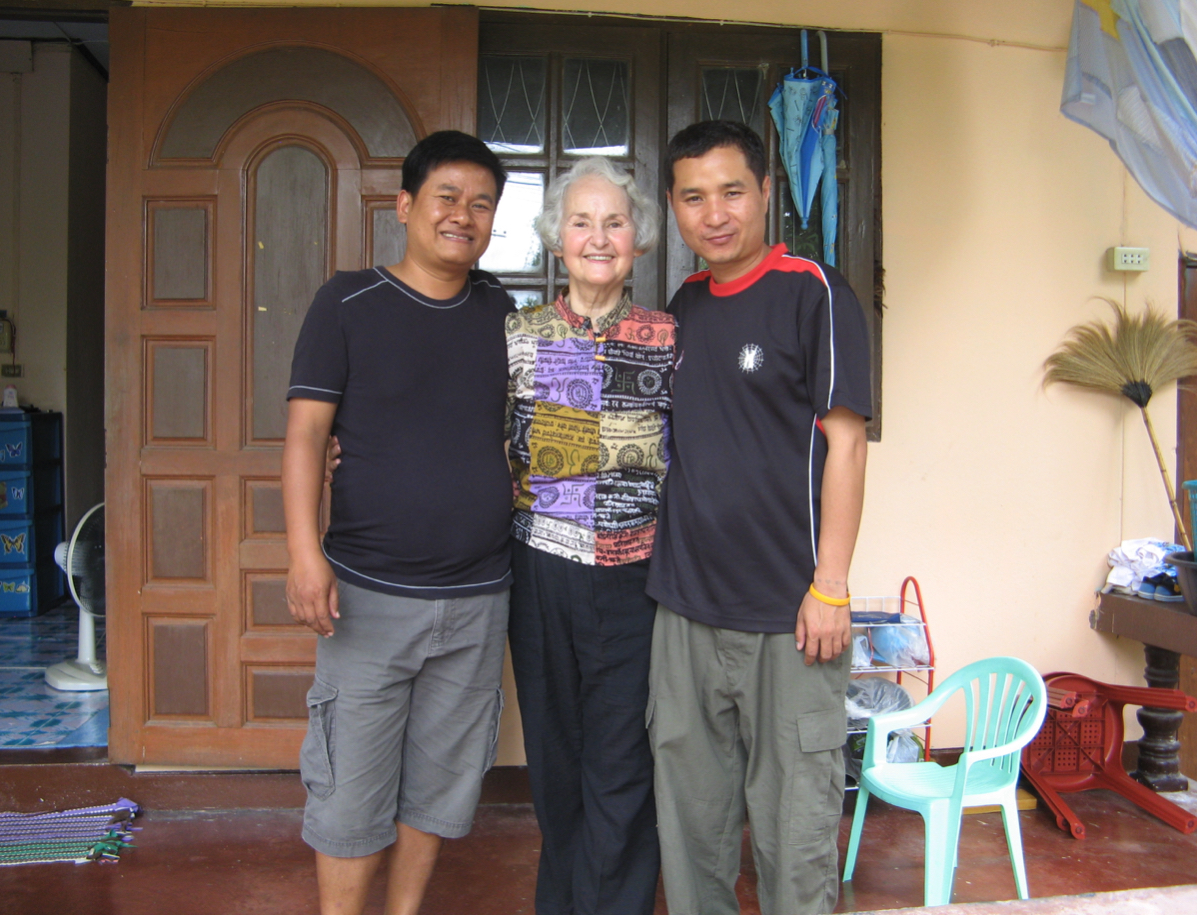 Above I have included a photo with two former refugee students who have turned their difficult lives around and now have jobs doing wonderful things for other refugees.
Pi Mok Migrant School: In 2012, it will be 7 years since we started this school, but it may be closed this year. The migrants who live here are supposed to start work at a new site. If they don't move too far, our teachers will follow them and start a school in the new work camp. The new worksite couldn't be worse than this one―at least I hope not.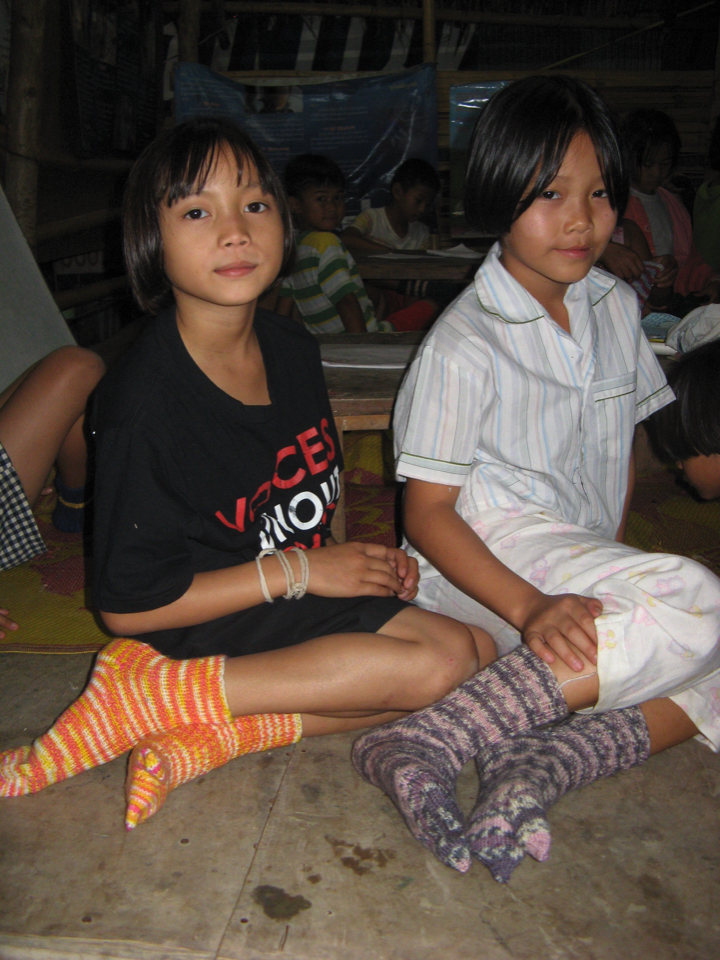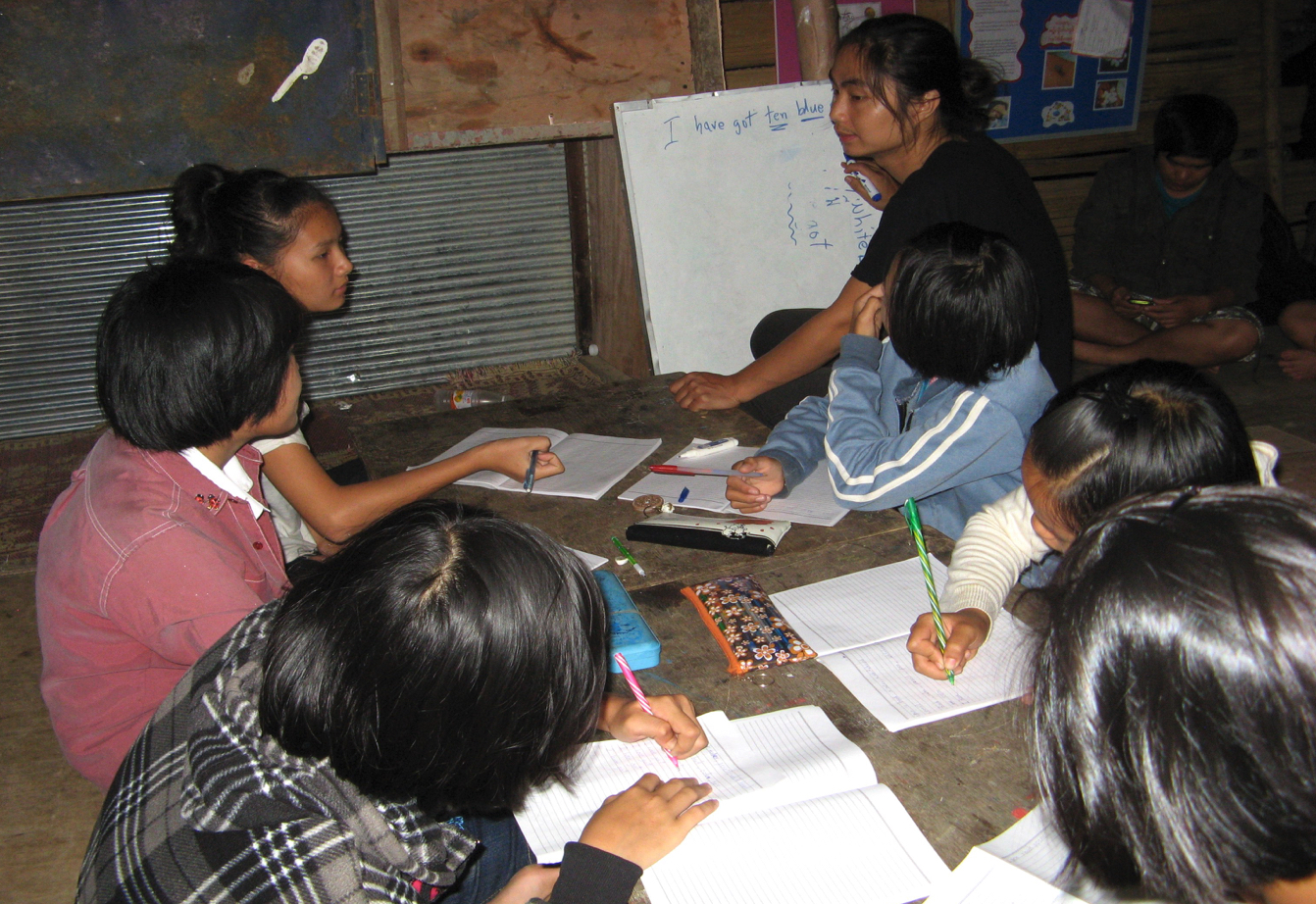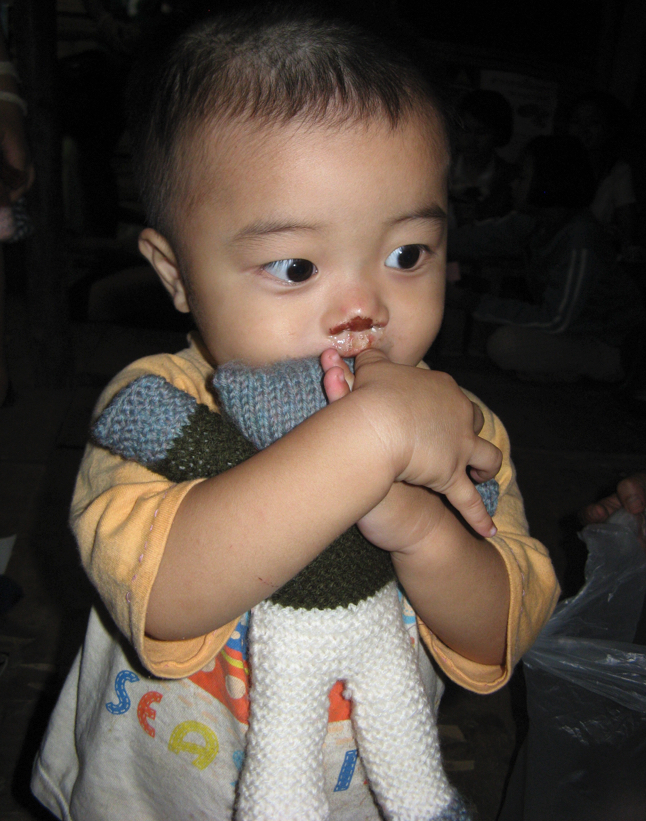 At this site, the plastic sheeting and bamboo shacks of the workers are crowded within inches of each other; the toilets should have been replaced five years ago; and there is an overpowering stench of urine in the camp. The school is as temporary as the housing, because of cost and because we knew it would all have to be pulled up and rebuilt one day. That has already happened once on the same site, as the workers built fine homes for middle-class Thais around their huts and the construction boss squeezed the workers into an ever-smaller space.
This year I brought to the school several friends who have been working to support the children: Diane from Canada, who made a storyboard with pictures of the school for her church, her friend Kelly, and Erika from Sweden. All last year Erika knit warm socks for the children. In addition to the socks, we brought them hand-knitted teddy bears,furnished by a group of women from Ireland who knit for a group that calls itself "Teddies for Tragedies." And Diane brought expensive chocolates. The strength of the head teacher's―the young man writing on the whiteboard―devotion to the children was shown when he turned down a chocolate so a tiny visitor, a child not yet in school, could have one. Having seen this teacher devour chocolates at other times, I know it was a real sacrifice. I have inserted a few photos. (Notice the little girls showing off their new socks above.)
My next visit was to the orphanage where Charm Tong grew up, which is known simply as "Teacher Mary's School," but should more accurately be known as "Iron Mary's School." She is one tough lady. Two years ago Teacher Mary suffered a stroke. She stuck to a therapy routine, is now nearly totally recovered, and rules the place with a smile and an iron backbone. (We all do what she says!)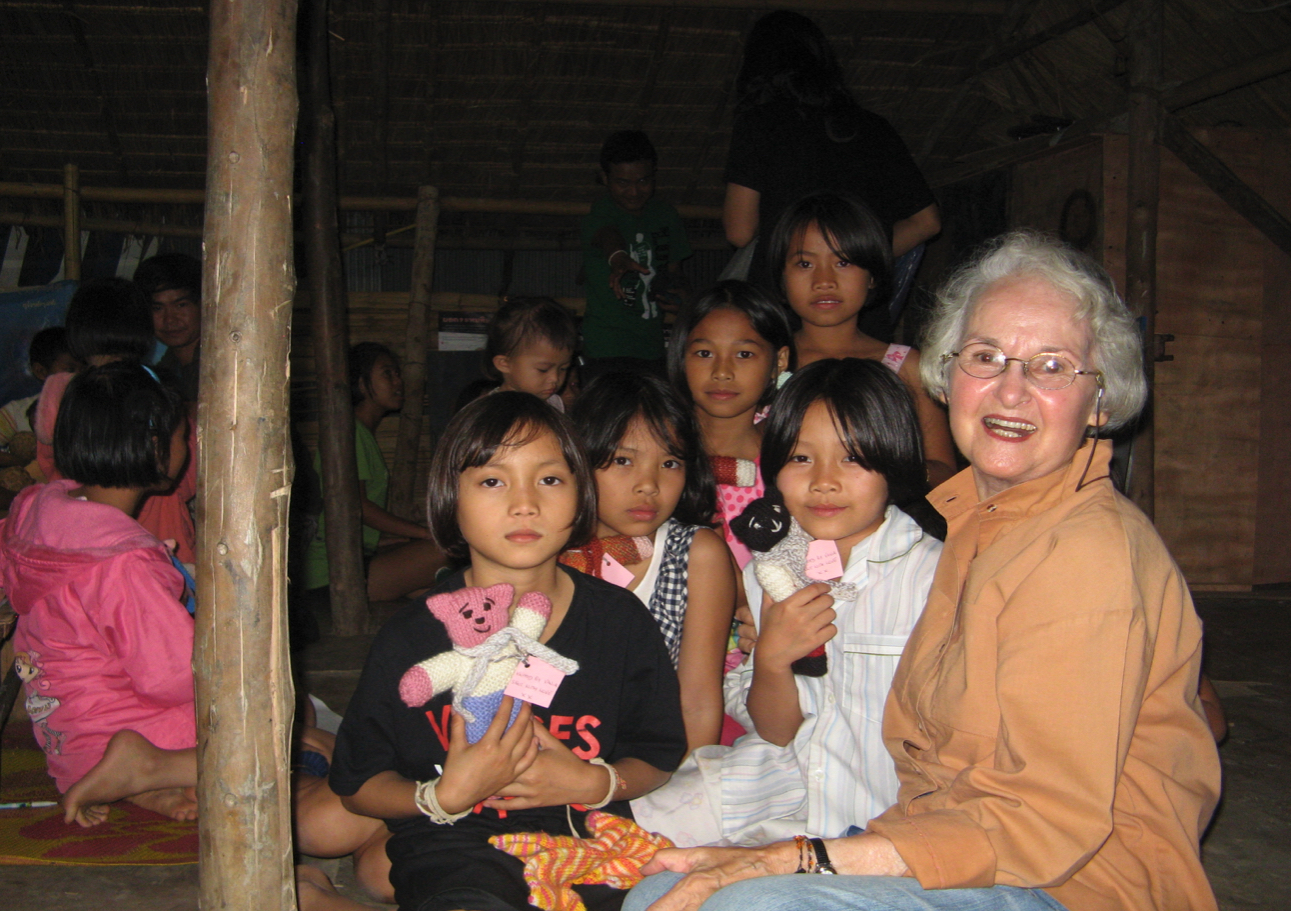 We were there over the Christmas holidays when Teacher Mary, a Shan Roman Catholic who was abandoned at a Catholic orphanage as a baby, organizes a feast for the entire village, all of whom are Buddhists. The orphanage children decorate everything in sight, helped by willing Buddhist monks who are full participants in the celebration. I will include photos of the primary Christmas tree, which is a native pine of some sort, of Teacher Mary, Charm Tong, and me (dressed down in my warmest clothes, which included long underwear and a heavy wool sweater―it's cold in the foothills of the Himalayas). I will also include a photo of Teacher Mary and me with the visiting monks. Women's heads cannot be higher than that of a Buddhist monk, and it was with great effort that I folded my metal knees into a semblance of a respectful position.
Between the visit to Pi Mok School and the visit to Teacher Mary's School I had mini- backpacks made for the teddy bears fashioned by the good women who knit for Teddies for Tragedies. The kids loved them! These children got teddies knitted by Vania, surely the best dressed teddies in Southeast Asia with their perfectly coordinated clothing and neck scarves. I'll insert a few of those photos.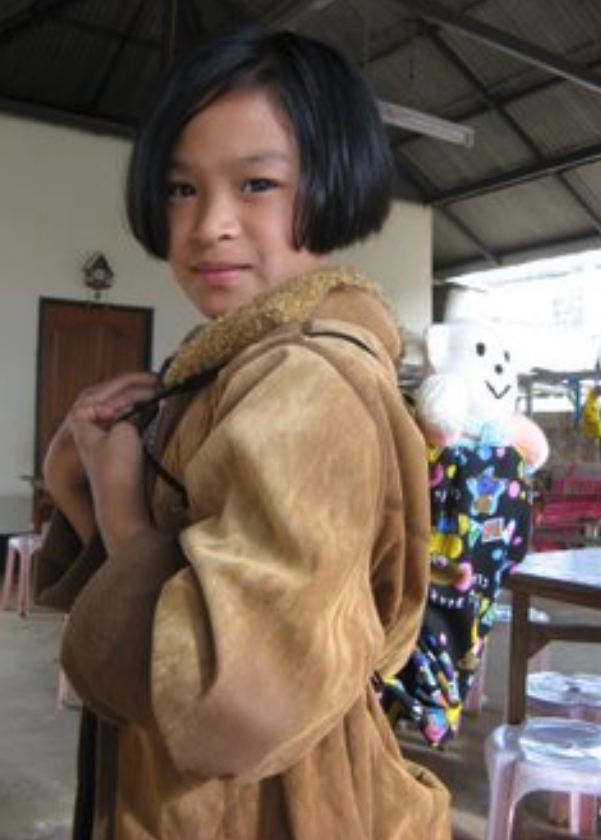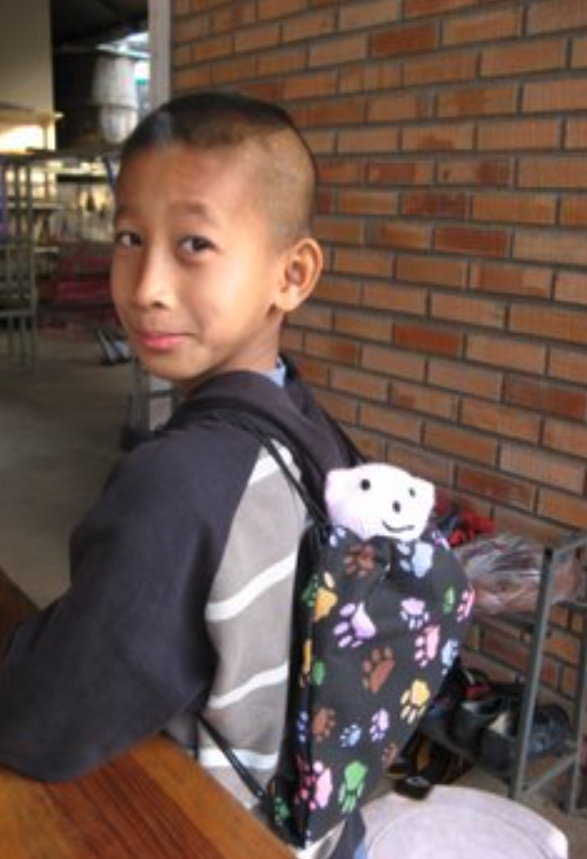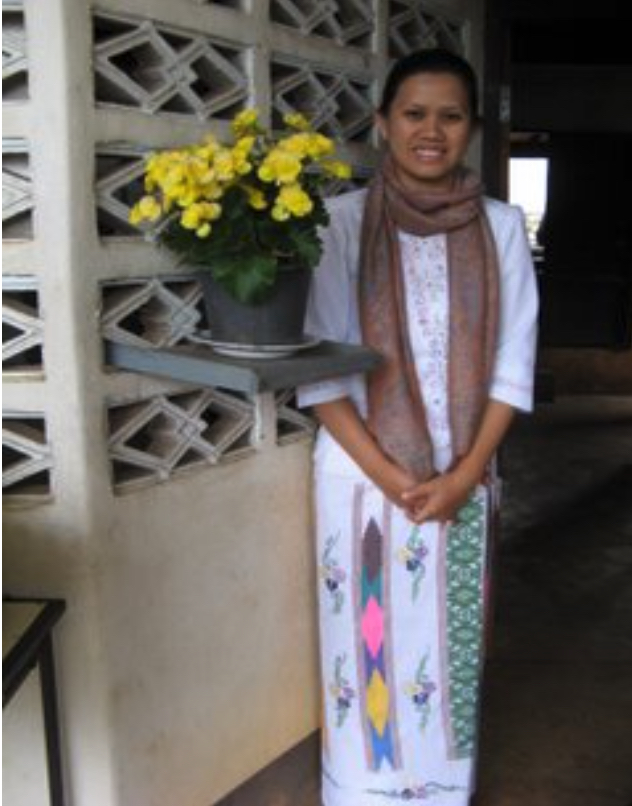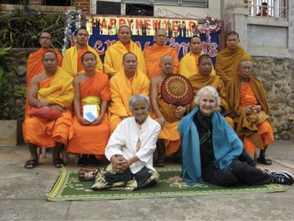 Ready to help us make a change?
We greatly appreciate your financial contribution to our important work. Click the donate button to submit your donation securely via PayPal.