Chiang Mai, Thailand
Dear Friend of Shan Refugees:
"Premature euphoria." That is the term Burma expert, Benedict Rogers, used at Chiang Mai University in speaking last week about international reaction to Burma's recent conversion to a "democrary," the freeing of Aung San Suu Kyi, and her election to the Burma Parliament. Here are the facts: The Burmese Army is waging all out war in Kachin State and Arakan States. Deployed to Arakan State to quell violence between Rahkine Buddhists and Rohingya Muslims, the Burmese military is accused of inciting more violence.
An estimated 150,000 Kachin are now in displaced persons' camps or refugee camps. The military has not given the UN easy access to help them.
Approximately 150,000 Rohingya are in displaced persons' camps living under the worst conditions imaginable. When they tried to escape to Bangladesh, they were turned back. They receive little aid.
The Shan Herald Agency for News recently reported that the Burmese military is no longer waging all out war in Shan State, but "…abuses such as beating, stealing, confiscation, extortion and forced labour etc… have become worse even in many peaceful places. Many Burmese military authorities seem to be still enjoying using their fists, boots and sticks on ordinary civilians, though they may no longer be able to be as trigger-happy as before."
The good news is that the Shan children who are fortunate enough to get an education in Thailand do well. The two young women in the photo below are former students who had to leave their school at the Thai-Burma border because bullets were flying overhead during a skirmish between Shan and Burmese soldiers. They are now attending Thai universities!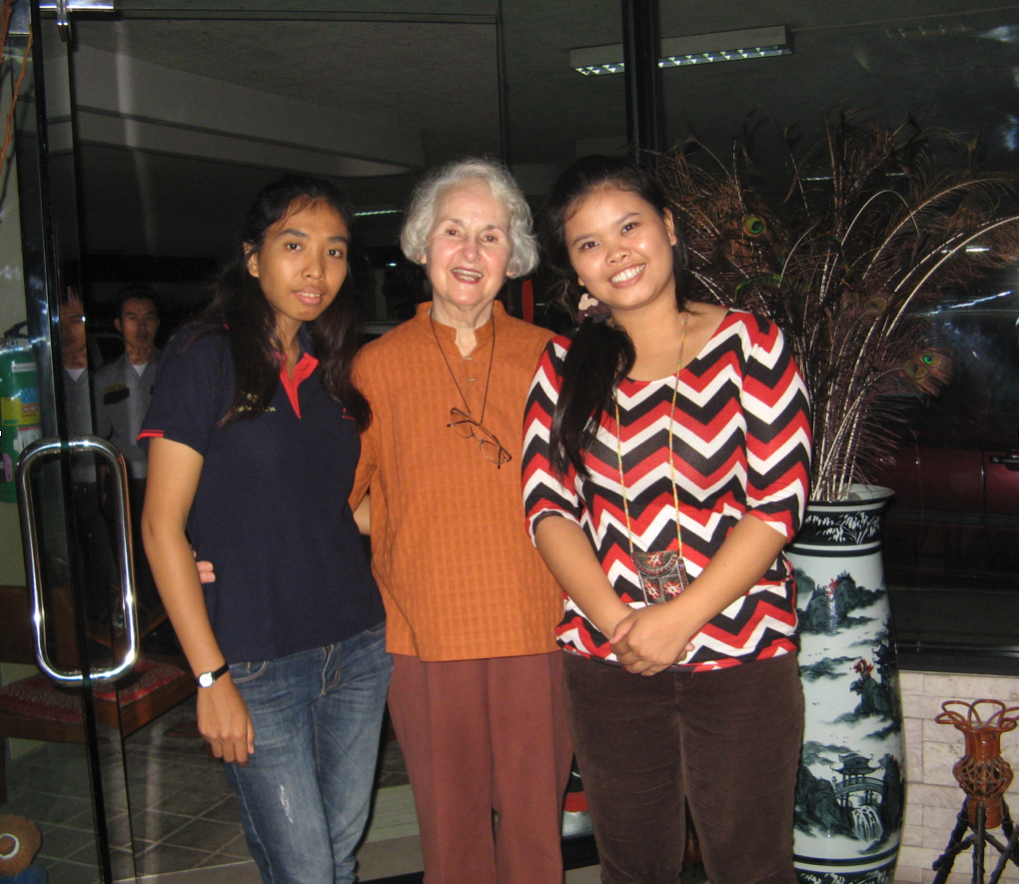 The two young men in the photo below are former students who also had difficult lives. If you have a copy of "The Shan: Refugees Without a Camp," you can read about them in the chapters "Shang Pun and the Sweatshop" (Shang Pun and his son are at the left) and "Sai Sam Searches for Work" (Sai Sam and his son are at the right). We gave them small amounts of support money for several years, and they now have good jobs, helping others.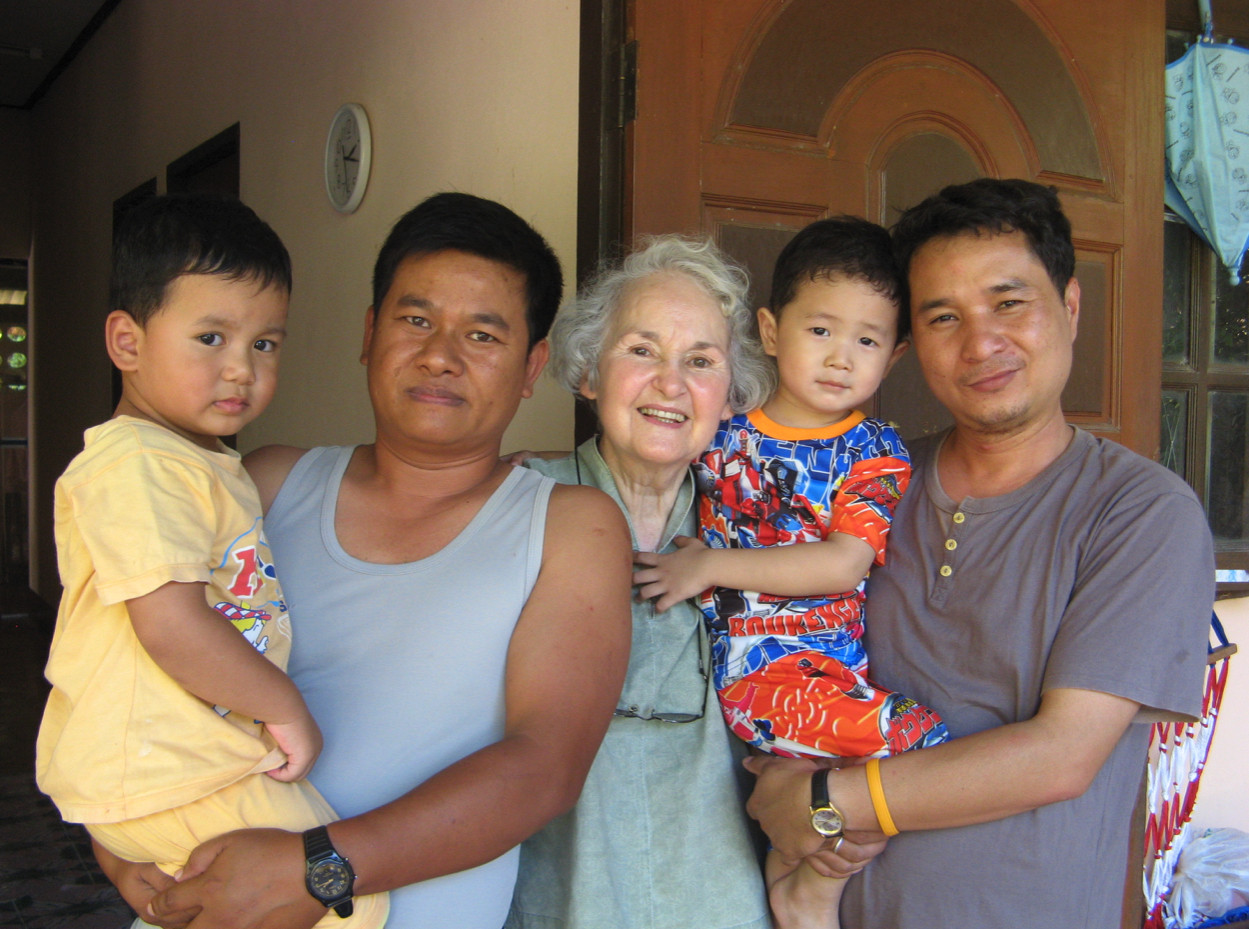 The photo below tells another interesting story: The young man at my left is our head teacher. Students applaud when he arrives at school. The fellow at my right is a former student who said he was interested in computers, asked for a $10.00 book so he could learn more. He also took a short computer training class and is now renowned in the Shan community as a computer guru. The two young women grew up in an agricultural workers' camp, where we gave small scholarships to the students so they could attend Thai schools. When they graduated, they attended the school where I taught English in 2002 and 2003, and
They are now teaching children in their home camps!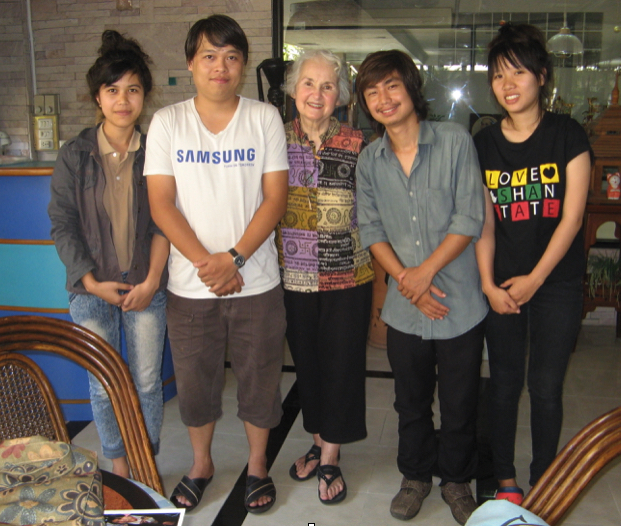 Thank you for helping Shan youth help themselves (and others)! Photos of the children will follow soon.
Sincerely, Bernice
Ready to help us make a change?
We greatly appreciate your financial contribution to our important work. Click the donate button to submit your donation securely via PayPal.