Dear Friends,
In a few days I will once again undertake the long, long journey to Thailand. These days friends ask "Why?" and "How long will you do this?" Only "Why?" has an answer: Because the young Shan refugees we help educate are "try hard" youth, who did nothing to deserve their ill treatment under the Burmese military regime, a military that continues to ravish the country under "civilian" rule, frightening Shan civilians and driving them from their land. They deserve the education they yearn for. I will report more from Thailand, but here is a smattering of news from the past six months.
The children at View School continue to thrive. The school is at a Shan construction workers' camp, but we must change locations because the workers' are now at different worksites. This past spring, two St. Paul teachers visited the school and taught the children and their teachers new English language games. Below are photos of three of our Shan teachers and of our St. Paul friends in action.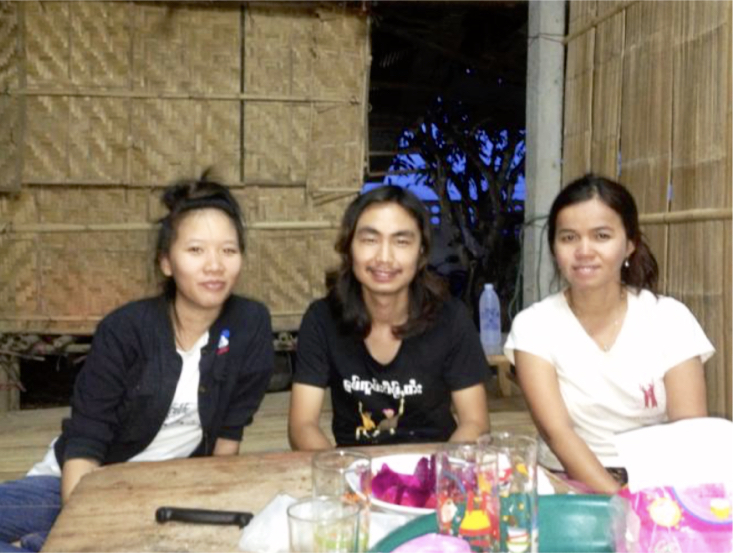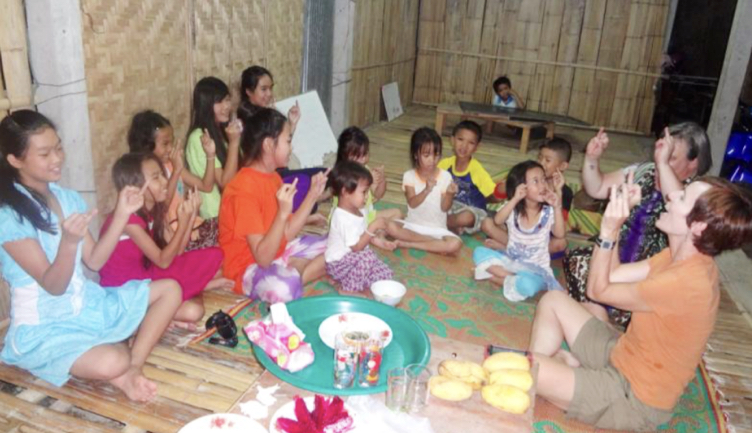 Agricultural camp students: The fifty plus agricultual camp students whose education we support with scholarships do amazingly well. (Three of them have become teachers!) One of their teachers sent me an attachment with individual photos―but it is huge. I will try to forward it separately. Below is a photo I just got from them, where part of the group―entire group is too large for photo― is reporting on their scholarships.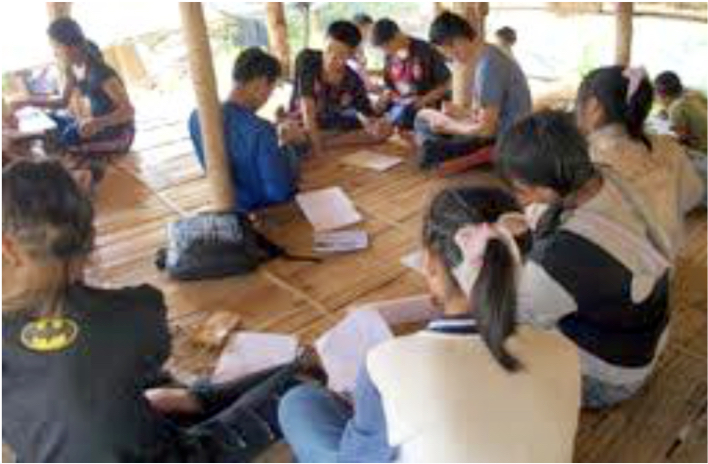 Orphans at Thai/Burma Border: Communication is erratic with the caretakers of six children we have supported at the Thai Burma border―English is difficult for them― but in September they reported that the orphaned boys had joined a monastery and the girl had gone to live with a women's group. Another child is now being supported by his parents. I can only surmise that the orphaned children were afraid of being forced back to Burma and feel safer in their new surroundings. http://www.burmalink.org/displaced-in-thailand http://www.irrawaddy.org/refugees/burmese-refugees-thailand-dont-want-return-survey.html
A last piece of news from early spring: Most of you know about our April fundraiser, which was successful thanks to the support of hardworking, faithful friends, like Jeffrey and Brenda Laux, who hosted the event, Josh Kletschka, whose dedicated support makes our organization viable, Richard Terrill and Larry McDonough, who enlivened the event with music, Karen Boileau, who supplied moral support and wine, Nancy Newman who greeted visitors and kept detailed records, and Sue Grosse Macemon, who was enthusiastically involved in every facet of the event and who brought along a crew of students from Como High School who have worked for several years to support Shan youth. Young women from that group helped to prepare a Shan ethnic tea leaf salad for guests.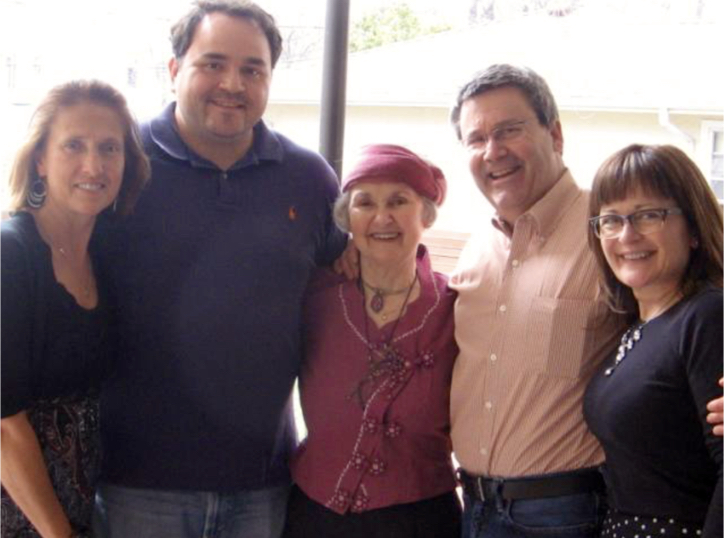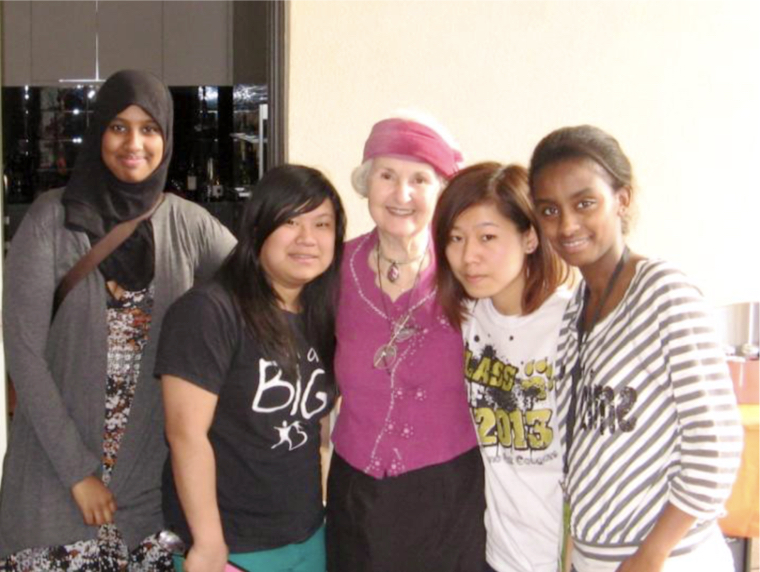 It's heartwarming to have friends around the world who work for Shan youth and to have the benefit of seeing those youth succeed. (I will send more photos from Thailand.) Many thanks for your help in making that possible!
Sincerely,
Bernice
Dear friends of Shan Refugees:
Conditions in Burma are abysmal. The military is waging open warfare against people protesting the takeover of their country. It is not just the protesters who are in danger: Loi Kaw Wan, an encampment of Shan displaced persons, on the urma/Thai border north of Chaing Mai, has been shelled and residents cannot farm their land for fear of attack.
In the past, we supported six orphans at this site, and I am deeply saddened by the plight of their people. https://myanmar-now.org/en/news/myanmar-military-artillery-shells-explode-near-shan-idp-camps. Below photo is with young women who lived at this encampment.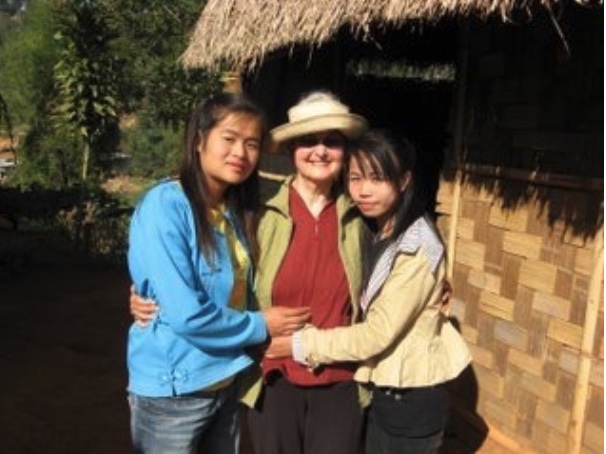 You can read more about the military coup here:
https://www.irrawaddy.com/news/burma/daw-aung-san-suu-kyi-to- go-on-trial-at-special-court-in-naypyitaw.html
The Burmese military blocked internet service for more than a month. When they still had it, a former student wrote simply, "Scared, Teacher."
NEWS FROM THAILAND AND OUR EDUCATION PROGRAMS:
Thailand is having a resurgence of COVID cases, and only 1% of the people have been vaccinated.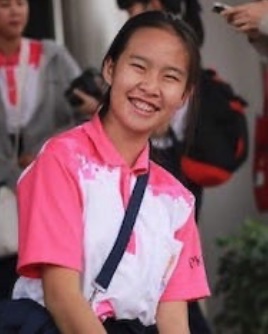 Our schools have been closed for some weeks and are tentatively scheduled to reopen in early June. When in session, they accomplish amazing things. Here is some information we gleaned from the last report from Shan Youth Power, SYP, which manages the education
programs, wrote about several outstanding students. She studies as Secondary level, grade at Nawamin Payap High School. Nong Tida always has a passion for working at social work organizing, and leading the students in the community for activities
such as organizing reading books, decorating the school to be clean, leading the students for environment activity, encouraging the community to reduce plastic by collecting the money and buying plates, spoons for using in community, such as birthday party. She always happy to join social activity workshops or camps that are provided by Shan Youth Power. She has a strong heart to help the community and wants to see migrant people have better future.
Nong Tida may not be outstanding in language skills such as English but she is an excellent in social work. In SYP, we are not just developing in academic studies, we guide them to be who they are, to follow their dreams. We believe people have different talents, which means that although we cannot be outstanding in everything, at least we do good for people, for society.
Noung Shwe Kyar is one of the outstanding students from KarnKanook2 Migrant School. She has been studying at Chiang Mai Vocational College as a first-year student in Design, academic year 2020.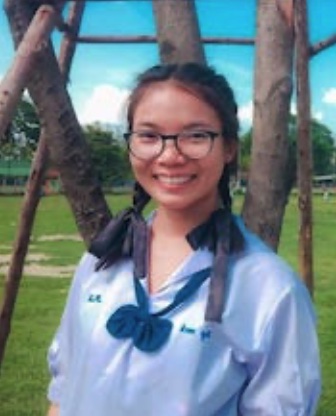 Her words: I am one of the students who has received a scholarship from Bernice [ie, Schools for Shan Refugees]. I got scholarship since elementary school until grade-9. I knew about this scholarship from one alumni student who is living in the same camp with me. We learned at Migrant school together. I thought that I had difficult circumstances and my family had very low income. This scholarship can provide for food expenses at school or tuition fee. And volunteer teachers from Shan Youth Power also come to teach at our camp. Therefore, I got the scholarship. The difficult thing I have faced is the cost of passport and visa extension fees. There are 4 people in my family and we all are using passports as well... this year there is an additional blood test and covid-19 test. Due to Covid-19 pandemic many people had lost their jobs and it is hard to find a job.
My mom works as a housecleaner during this period it hard for her to get a job too. Especially, if you are migrant workers. Because some employers are afraid of migrant workers. They think that they will get infection with Covid-19 from migrant workers.
For example, we went to clean in a house but they did not want us to enter the house. As for my father, in the past he had many jobs and it was easy to get a job to work. Now, there is not many jobs like before so, it is hard for him to get a job too. And he has to work to pay for food day to day and no savings. In the past, migrant workers like us wouldn't study until high school. They would only study till middle school then start to work. [Our program is extending the education of Shan youth.]
We are completing a report about our teachers—five of whom were migrant camp students and got scholarships from us, some, like Nong Shwe Kyar, for as many as nine years. I will forward it soon.
In the meantime, we are hoping to keep the schools and scholarship programs afloat. We are ever so grateful to those of you who have donated. That money is in safekeeping until the education programs resume. If you have not donated this year and wish to do so, scholarships range from $30.00 per year for elementary students to $100, $200, and $300 per year for older students, attending vocational schools. Donations can be made through Pay Pal at our website: www.shanrefugeeschools.org OR you may write a check to Schools for Shan Refugees and send it to
Mary Worner , Treasurer
28424 Water Street Road, Underwood, MN 56586
Many thanks to the Unitarian Universalist Church in Underwood for their continued support in the form of an annual grant. We are grateful. The Shan youth are grateful.
If we remain COVID free into fall, we plan to hold a 3-course Shan dinner fundraiser in Minneapolis. Hold the date: Saturday, October 9!
Sincerely,
Bernice Johnson, Vice President Schools for Shan Refugees, Inc.
Ready to help us make a change?
We greatly appreciate your financial contribution to our important work. Click the donate button to submit your donation securely via PayPal.