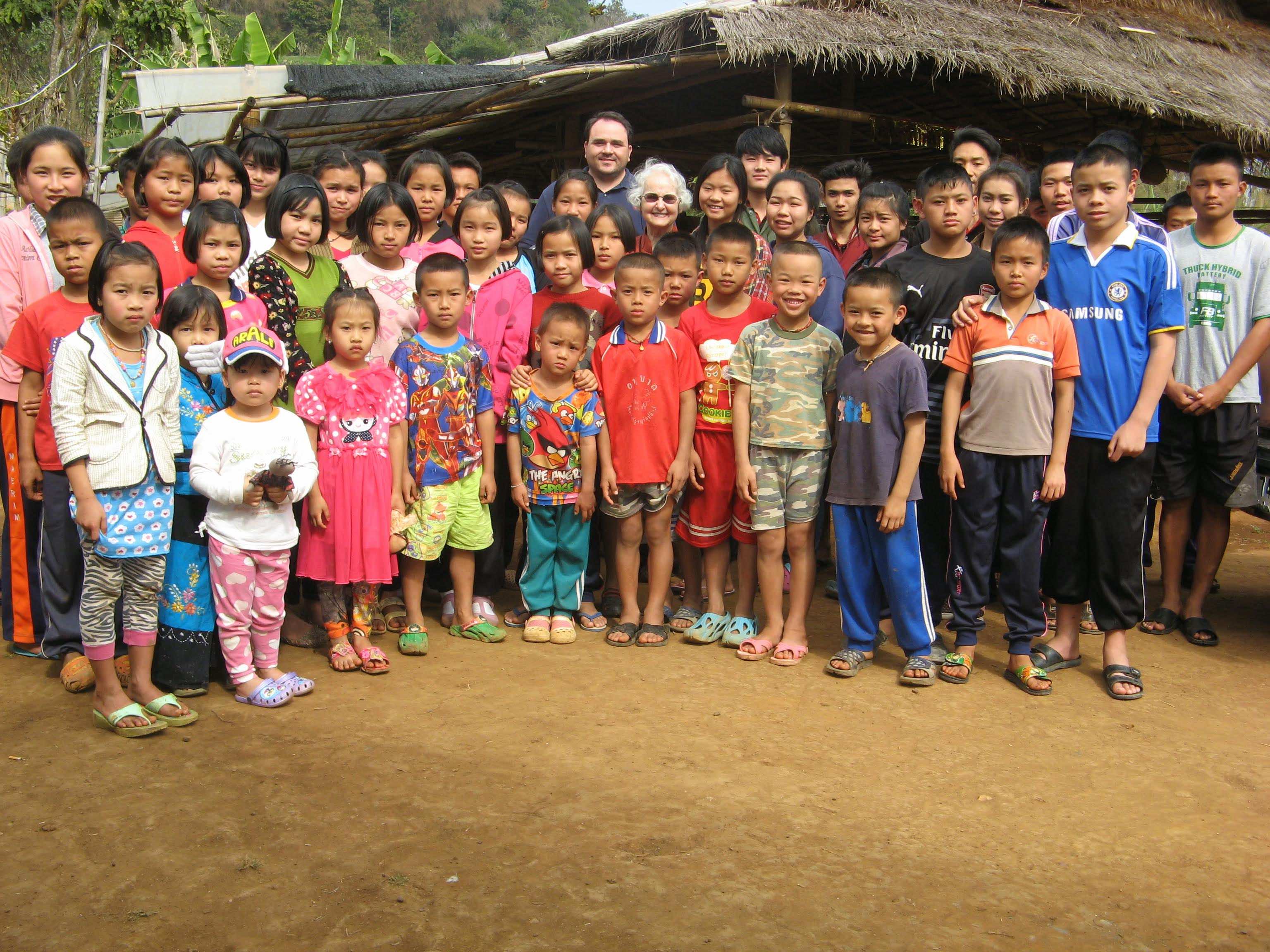 Dear Friend,
Soon I will be in Thailand again, reviewing our projects for Shan refugees and migrants from Burma. In the following statement a former Shan student, who was in my English class and is now at university, encapsulated the situation of Shan migrants in Thailand now:
Sai Phumurng "They build houses but not their own. They produce foods, they eat little, benefits go to their employers. They get wages, little to save, little remittance. Benefits go to their employers. They can live here (Chiang Mai, Thailand) but in marginalized places (construction camps) and excluded by society." [For more information, see links at the bottom of this letter.]
Most Shan refugee-migrants are afraid to return to Burma, or they have returned and found they couldn't survive, so they go back to Thailand.
The above photo is of students at Poon Yaing agricultural camp in Thailand. Thank you for helping them to get an education by donating scholarship money to Schools for Shan Refugees so they can attend Thai schools. Here is a quote from Myo Aung, our head teacher and program coordinator in Chiang Mai: "Last Saturday, we had a meeting with professor from Education department of Chiang Mai university and she said the scholarship you provide is one of the most important reason to keep [enable] migrant children in school. With them [Chiang Mai University], we collaborate in research project and short film project." We will share them with you when available.
You have also donated to View and Karn Kanook migrant schools, which we support in construction workers camps. I am attaching photos of the students in those camps to this newsletter.
When the Shan children we support attend Thai schools, they are lauded as outstanding students. Thai school administrators are now working with our teachers to study their methods and find out why impoverished Shan children from migrant camps are such excellent students. We want to keep them in school!
So, if you have been planning to donate to Schools for Shan Refugees in 2015 but haven't done so yet, you could use the Pay Pal link above (Pay Pal charges 2.9% to handle donations) or you could send a check to me: Bernice Johnson, Schools for Shan Refugees, 2928 Dean Parkway, 3A, Minneapolis, MN 55416. The only charges we have ever incurred are those levied by the bank. The board pays all other expenses, which means that 99.9% of all donations go directly to the children.
It costs $140.00 per year to send a child to a migrant camp school. We have four scholarship categories for students in Thai schools. $30.00 per year, $100.00 per year, $200.00 per year, and $300.00 per year. The varying amounts depend upon the child's age, need, and the distance they must travel to attend Thai schools. We would be grateful for donations of any amount.
Bernice Johnson, Director
Schools for Shan Refugees
Fighting continues in NE Shan State: 8.29.15 Fighting in NE Shan State: http://www.irrawaddy.org/burma/fighting-flares-in-northeast-as-high-level-peace-meeting-nears.html
More Fighting in Shan State 9.19.15:  http://shanhumanrights.org/index.php/news-updates/227-burma-army-forces-about-30-villagers-to-be-human-shields-during-fighting-in-kunhing
3.   Sex workers – what we hope to save Shan youth from: 8.14.15 Underage girls as sex workers http://www.irrawaddy.org/burma/poverty-drives-myanmar-girls-into-underage-sex-work.html
4.   Abuse of Rohingya in Burma: http://www.irrawaddy.org/burma/burma-says-persecution-not-the-cause-of-migrant-crisis.html
5.    Aung San Suu KYi a bust: http://nytlive.nytimes.com/womenintheworld/2015/03/23/aung-san-suu-kyi-is-a-bust/
"Our greatest gift to others is our ability to enter into solidarity with those who suffer," Henri Nouwen
"Be the change you want to see in the world." Mahatma Gandhi
Ready to help us make a change?
We greatly appreciate your financial contribution to our important work. Click the donate button to submit your donation securely via PayPal.