Dear Friends of Shan Refugees:
There was a shocking incident in Burma after I wrote to you last week: Prominent Muslim lawyer, Ko Ni, was killed by a hit man at the Rangoon Airport. Ko Ni was an advisor to Aung San Suu Kyi's political party, the National League for Democracy. He had been pushing for ways to change the constitution so that the military would play a lesser role in the government than is allocated to them now (25% of the parliamentary seats). https://www.nytimes.com/2017/02/02/world/asia/myanmar-ko-ni-lawyer-constitution-military.html? _r=0
Aung San Suu Kyi has remained silent on the murder, which makes one wonder whether she, too, fears for her life.
In Thailand: Our efforts to keep the Shan children, who live in the hills, warm on cold winter days. When someone gives me cash and says, "Use it wherever you need it," that money goes to the clothing fund. (All other donations are used for education.) Here is a report on this year's project, which we held on Christmas
Day, after a delicious meal of Shan noodles prepared by the teachers.
My friend, Linda DiMichaelle, of the UK visited me for three weeks. (See photo above.) She brought a large suitcase full of scarves, gloves, and hats with her, as well as money her UK friends had donated to buy more.
The teachers and Linda and I (though I wasn't much good) went to Warorot Market on the Ping River and bought 100 sets of pajamas/sweat suits in assorted sizes and 20 blankets for the older children. I had just recovered from a bout of bronchitis, so I pooped out early and drank coffee, sitting by the river, while Linda and three of the teachers (Poung Poung, Jing Boon, and Kham On) continued shopping. Word spreads quickly when clothing will be distributed, and there were many more children than we had anticipated. I am the white blob in the background at top, wondering whether we had enough warm things. (We did not.)
We started (as always) with the little children, because I think they suffer most from the cold. I read the anxious look on their faces as wondering, "Is there enough for me?" Yes, we had enough for all the little ones, but ran out with the thirteen-year-olds, who were gracious about playing paper, rock, scissors for the last blanket.
Many thanks to all of you who helped to keep these Shan children warm during the chilly winter months. They are grateful and so are we!
Sincerely,
Bernice Johnson, Director Schools for Shan Refugees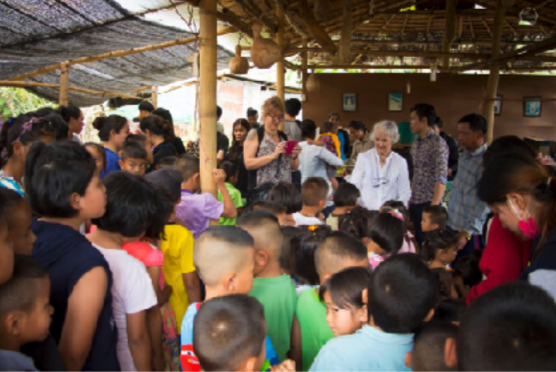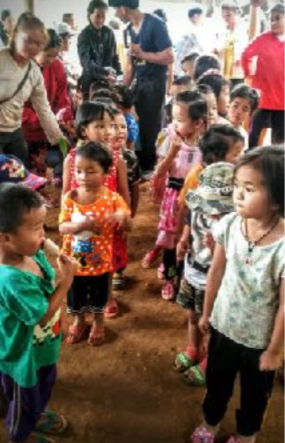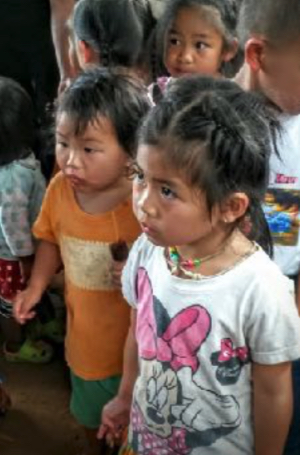 Ready to help us make a change?
We greatly appreciate your financial contribution to our important work. Click the donate button to submit your donation securely via PayPal.